GEORGIA: Nine Years After the War for Ossetia, Still Building Fences with Russia
By Maryam Saleh
A chain-link fence cuts through a grassy farm field in this small village in north-central Georgia. Beyond the fence line is South Ossetia, a Russian-supported breakaway region about the size of Rhode Island. From a distance, the green Caucasus Mountains are visible at every turn, but the picturesque view does nothing to ease concerns of the farmers living here.
Ever since the Russians began to install the fence a few years ago, the farmers are forced to guess how far beyond the de-facto border they and their grazing cattle are allowed to roam before being detained by Russian guards.
The farmers of Ditsi have lived this way since 2008, when fighting between Georgians and Ossetian separatists led to a Russian intervention and a five-day war. Nine years later, Russia is still building fences—sometimes chain-link, sometimes barbed wire—across the administrative boundary line.
And with no response from their government in Tbilisi, the Georgian capital about 70 miles to the southeast, the people of Ditsi feel abandoned by their government.
Russia 'Doing It Because They Can'
The Russians "are doing it because they can," said Joni Barishvili, 23, who has lived in Ditsi his entire life. "They are a super power, and they're doing what suits them geopolitically." Pragmatically, however, Georgian officials ask: faced with Russian aggression, what can a small country do?
The uncertainty at the frontline in Ditsi is one manifestation of Georgia's frozen conflict with Russia and its hindrance of the former Soviet state's westward aspirations. That conflict, and its results, were in some respects a precursor for the better-known case of the Ukraine, where Russian President Vladimir Putin annexed Crimea in 2014 and continues to stir unrest.
When Russia sent tanks into South Ossetia, Georgia was governed by the United National Movement under Mikhail Saakashvili, whose explicit pro-Western orientation following the 2003 Rose Revolution and efforts to reclaim South Ossetia antagonized Russia and prompted its invasion.
A More Realistic Approach
Since 2012, under the leadership of the less-confrontational Georgian Dream party, Georgia's Tbilisi-based government has taken what it considers to be a more realistic approach to relations with Moscow, though many citizens still question whether playing nice will do anything to mitigate the implicit Russian threat.
So the debate goes on in this country of 3.7 million, as officials seek to balance popular aspirations to join the European community and NATO with the increasing global dominance of its northern neighbor.
"Our pragmatic politics has much more results internationally and locally than this aggressive politics from the United National Movement," said Guguli Magradze, a member of the government party in parliament.
"You need to take your emotion and think by the brain, not by emotion." Georgia will "accordingly react, not react with more intensity than is necessary for results," said Magradze.
A Creeping Border with Russia
Despite Tbilisi's insistence that it can stay the course on Euro-Atlantic integration while softening its rhetoric about Russia, people here doubt that the government's plan will change the Kremlin's behavior or end Russia's support for the breakaway regions.
"I can't imagine even if there's a big power change in Moscow that Russia will change attitudes toward the South Caucuses," said journalist Marta Ardashelia. She runs a Russian-language Georgian news website, meant not to counter Russian propaganda, but to provide an alternative to minority groups that don't speak Georgian.
In the villages near the de-facto border with South Ossetia, resident say they don't feel Tbilisi shines a big enough spotlight on Russia's creeping border.
"A lot of people who live here, they don't feel support from the government at all," Barishvili said. "They can do much more to express the wishes of the people here, to show our side of the story. Every time something happens, we can be [louder] with other NGOs and international organizations to tell them what's happening here," he added.
'Closer to the Place that Hurts'
In Tbilisi, though, government officials say they are doing everything they can.
"I don't think that in any country people are content with their government. In every country, even in the EU, they have nice government, very good condition for life, people always are asking more than sometimes government can do," said Magradze in response to the criticism.
"In this border line, our government made significant steps — they have water, they have roads, they have financial assistance."
Ever since Russia established military bases in South Ossetia and Abkhazia, another breakaway region on the Black Sea that is 270 miles northwest of Tbilisi, residents have cited territorial integrity as a key issue of concern, according to surveys conducted by the National Democratic Institute, a U.S.-sponsored organization that seeks to promote democracy and free elections internationally.
Nowhere in Georgia are these concerns more evident than in Ditsi and other border villages surrounding Gori, a regional capital.
"There aren't many differences between this village and other villages in Georgia," said Barishvili. "The main difference is that we're closer to the place that hurts out heart."
Sandbags, Stacked Tires, Coiled Wire
Lia Chlachidze's life in the village of Ergneti has not been the same since the 2008 war. On a clothesline in her garden hang a mug and two small pieces of pottery, all that she found left in her burned-down home at the end of the five-day war.
And just down the road is a Georgian police checkpoint, where sandbags, stacked tires, and coiled wire separate her village from South Ossetia—and the Russian Army.
A little over a decade ago, the checkpoint was not so close to Chlachidze's home—in fact, for years there was a vibrant market a mile down the road where Georgians and Ossetians entered freely and exchanged goods.
Now, the European Union Monitoring Mission in Georgia and the OSCE host meetings with Georgian, Ossetian and Russian representatives in neutral territory just beyond the checkpoint. They meet in a white tent every month to discuss life on either side of the de-facto border. Georgia's white-and-red flag stands tall just past the police line, and the Ossetian and Russian flags flutter in the wind at a distance.
"This is not a conflict that started yesterday and will end tomorrow," said Chlachidze, 64, adding that Russia's military presence in the breakaway regions is "overshadowed" by its military operations in Ukraine and Syria.
Another Way for Russia to Flex its Muscles
Russia's occupation has a tangible impact on the lives of villagers, who complain of kidnappings by Russian forces of Georgians who inadvertently cross the administrative boundary line in areas where it is not clearly demarcated, often because they are chasing their cattle.
The European Union Monitoring Mission, the only civilian force that patrols the border regions, works with the OSCE and the Georgian, Ossetian, and Russian governments to operate a hotline for use by people on either side of the border.
The hotline is most often activated to report Russian border guards' detention of Georgian citizens who cross the boundary without using a checkpoint, according to an EUMM representative.
Russia's Foreign Ministry says its border guards are demarcating the border at the direction of South Ossetian authorities. Critics say establishing the border is another way for Russia to flex its muscles without using outright force.
"The goal of borderization is to undermine Georgia as a stable state," said Georgi Badridze, a former diplomat who now works at the Tbilisi-based Georgian Foundation for Strategic and International Studies.
Georgian's Pro-Western Policy
Speaking on condition that he not be quoted directly or further identified, a U.S. Embassy official said that Russia is not trying to annex additional Georgian territory, as the situation is often represented, but is instead taking steps to further isolate the breakaway regions to make it impossible for Georgians to reclaim them.
Most Georgians support their government's aspirations to join the EU and NATO, according to public opinion polls conducted by NDI, which derives its funding from Western institutions.
Regardless of who has been in charge, Georgia's government has maintained a pro-Western foreign policy since 2004. But Moscow's looming presence has deterred the EU from ushering Georgia in.
"The West supports Georgian independence," said Badridze. "Russia does everything it can to undermine it."
'Common Cultural Values' with EU
An April 2017 survey found that 80 percent of the population supports the government's stated goal of joining the EU, but Georgia has no official status as a candidate for EU membership. Still, the EU's blue-and-gold-starred flag stands alongside the national flag outside government buildings, and it hangs from sign posts along streets and bridges.
An EU-Georgia Association Agreement, which includes the Deep and Comprehensive Free Trade Agreement, went into place last July, promoting cooperation on day-to-day issues.
"We have really common cultural values, and when we will be a member of the European Union, we will have more benefit in the economic and political and cultural regards," said Natia Gamkrelidze, who leads the European Alumni Association of Georgia, a pro-EU civic organization that produces a weekly podcast about the benefits of EU membership.
'Get to Know European Values'
The European Parliament in February granted visa-free travel to Georgians, which Magradze described as a "great success" of her party.
"People can realize what is really European culture, European style of life. We have some myth that Europe is against family ties…people can realize in practice that it is a myth," she said in an interview.
For locals, visa liberalization is equally important for Georgians as it is for Abkhazians and Ossetians, who are entitled to Georgian citizenship.
"They can get to know European values and get out of the bubble Russia has created for them," Chlachidze said.
As for NATO, Georgia has been trying to join the military alliance since 2005, but its members know how Putin feels about NATO taking former Soviet states under its wing. Citing these concerns, the alliance in 2008 decided not to offer Georgia a Membership Action Plan.
Quashing Georgia's NATO Aspirations
Support for Georgia also joining NATO is at 68 percent, according to the April 2017 NDI poll, largely because Georgians believe belonging to the alliance will keep them safe.
"What is a very important motivation is the motivation of security, because integration with the West is the only way to protect the country from Russian aggression," said Giga Zedania, the head of Ilia State University in Tbilisi.
But Georgia's small size and geographic proximity to Russia make NATO membership a remote possibility.
By occupying 20 percent of Georgia, Russia believes it has effectively accomplished its goal of quashing Georgia's NATO aspirations, said a senior Western diplomat, speaking on condition that he not be further identified.
But that does not mean the United States and its allies will not look for alternative means to provide defense support to Georgians, he said, citing a forthcoming U.S.-led train-and-equip program.
Big Contributor to NATO in Afghanistan
Georgia, the largest per capita contributor to NATO's operation in Afghanistan, has considered the United States a key ally since the 1991 dissolution of the Soviet Union. America's past political influence remains evident: a main highway is named after President George W. Bush. A statue of President Ronald Reagan sits in a public park.
Georgians were less enamored with President Barack Obama, whose name is conspicuously missing from Tbilisi's geography.
Georgians paid attention to President Donald Trump's campaign, and they were concerned about his expressed admiration for Russian President Vladimir Putin and his hostility to press freedom — one of the hallmarks of a democratic society. But their worries have lessened since January; officials say they are pleased by the continuity of relations between the countries.
Trump and Brexit
When Trump signed a federal spending bill on May 5, Georgians celebrated the legislation's ban on funding to countries that recognize the autonomy of South Ossetia and Abkhazia.
"An unprecedented example of support of #Georgia's territorial integrity and #US-#Geo strategic partnership," tweeted the country's Foreign Ministry, sharing a photo of the excerpt of the bill that refers to Georgia.
Despite Trump, Brexit, and the growth of far-right movements across Europe, Georgians say they remain committed to their westward ambitions.
"We don't have another option," said Sergi Kapanadze, a member of parliament from European Georgia, a minority party that was formed after an internal split in UNM. "We can't deliberate going east or west, because any other option means we'll be swallowed by Russia."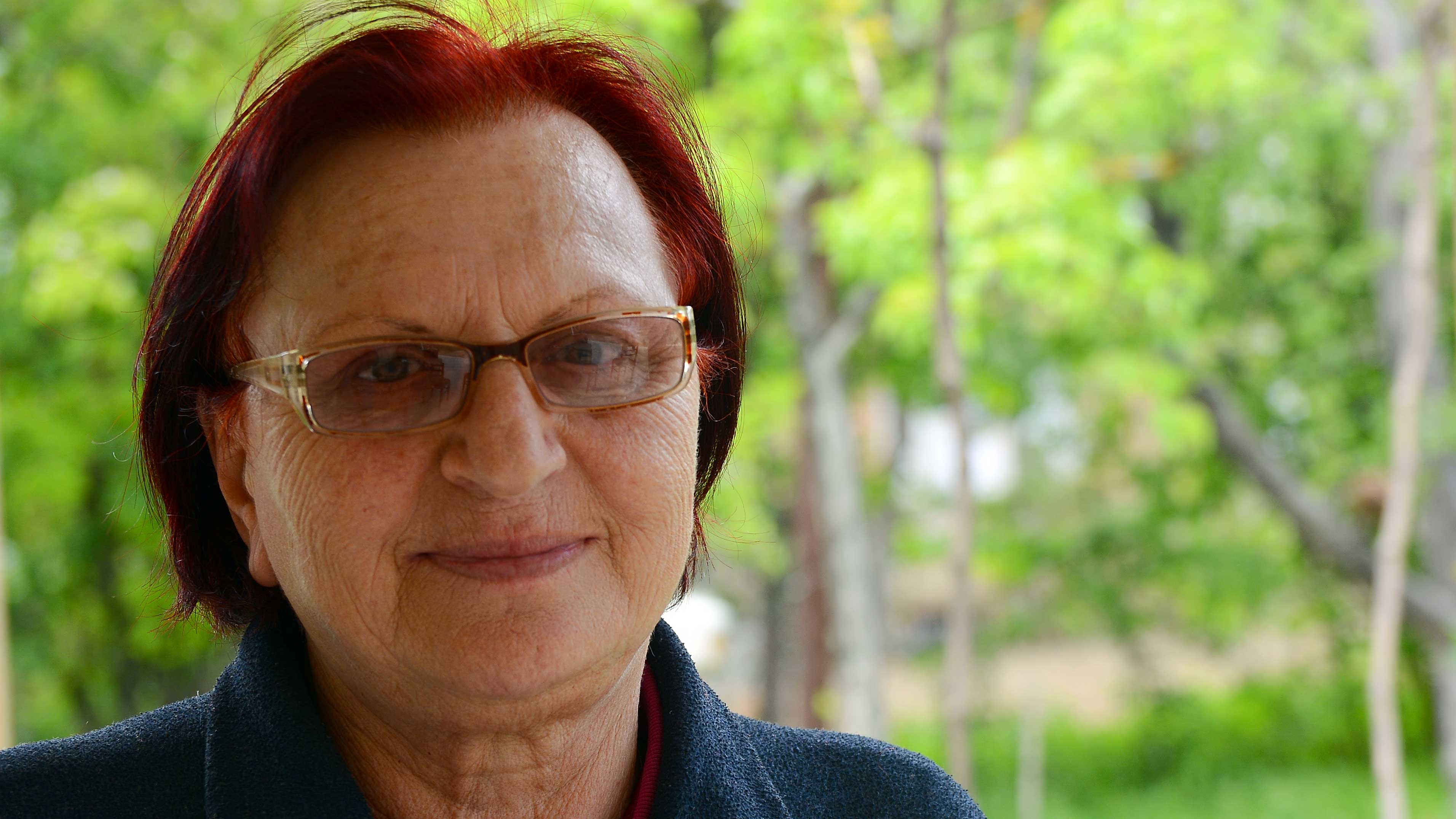 Dissenting Political Voices
Still, there are dissenting political voices who say Tbilisi should try harder to cooperate with Russia.
Nino Burjanadze, former speaker of the Georgian parliament and former associate of Saakashvili, has been vocal in recent years about Georgia's need to work with Russia directly, instead of through the international community. Her stance has earned her a pro-Russian label.
"If we want to be real Europeans, we shouldn't declare people who have different vision on some case as enemies of the countries or as agents of foreign countries," she said in an interview, describing herself as "pro-Georgian."
Burjanadze, who chairs the Democratic Movement – United Georgia party, unsuccessfully ran for president in 2013, and her party is not represented in parliament. But the Alliance of Patriots of Georgia, a party self-identifying as pro-Russian, won six of 150 seats in parliament in the October 2016 election.
And Russia has had some soft power success in the country, Badridze said. "Quite a few Georgians can't imagine Russia as an existential threat," he explained.
That does not translate to long-term success for the Kremlin, though.
Russia could have been an attractive partner following the fall of the Soviet Union because of historic ties and the popularity of the Russian language, Zedania said, but the time for the potential partnership has passed.
"Russia doesn't have anything to offer. It's not even a model of development," he said. "Russia can only be an interesting partner for an authoritarian ruling elite."
'Never Give Up Anything to Russia'
As long as Russia maintains a military presence in the breakaway regions, it won't be able to win over Georgian hearts and minds, a U.S. Embassy official said.
The fact that Russia occupies 20 percent of Georgian territory makes the rest of the country almost impervious to Russian influence, said the official, who spoke on condition of anonymity to speak candidly.
Back in Ergneti, Russia has no chance of swaying Chlachidze, a native of Tskhinvali, now the capital of South Ossetia.
"We should never give up anything to Russia, because they are an occupier," she said defiantly.
FINDING HOPE, JUST MILES FROM RUSSIAN GUARDS
Lower Nikozi is just south of South Ossetia, a Russian-backed breakaway region, making it one of more than a dozen villages in one of Georgia's two conflict zones. Its villagers know that Russian soldiers stand guard just a few miles away, but instead of thinking about that, they are focused on doing their part to improve their daily lives and to ensure a brighter future for their youth.
"In our village there was not space where youngsters can gather and plan some kind of civil activism, like civil projects," said Mariam Devidze. She launched a community library in a run-down building at the periphery of the village last year.
The village lies on the banks of the Liakhvi River, and its people farm trout and apples. Despite a recent designation as a "mountain village," which means increased public benefits, villagers feel that the government in Tbilisi does not invest enough in their well-being.
"In Georgia, the villages in mountainous regions are getting abandoned because there are no opportunities [for] development [for] these people and kids," said Devidze, 22. "There is one school for 10 villages, for example, in some places, and I really want to help these people somehow."
Devidze, who is working toward a master's in sociology from Tbilisi State University in the country's capital, about 70 miles southeast of Lower Nikozi, established the library after her schoolwork last summer spurred her to research problems in the village, where she grew up.
There were "12 problems I identified, and one of them was about the libraries," she said, "that in our village, there is not [a] library, and not only youngsters, adults wanted to have it here too."
She requested permission to use a room in the building from the municipal government in Gori, the regional capital. Within a matter of months, the library was functional. Now, 20 ninth-to-eleventh-grade students are regular visitors.
In fact, they helped Devidze set it up. They worked together to paint the walls green, install bookshelves, and get furniture. The self-described activist taught the students how to write project proposals, and they reached out to publishing houses and secured donations of children's books, novels, and books on science and a host of other topics.
"Now our plans is that this room is ready…and after school they will come here—all youngsters—and they will read books and they will have computers because at their home they don't have internet access," Devidze said. "I hope they will use this internet [and this space] wisely."
She is not the only one trying to improve the quality of life in the village.
Upstairs, hidden in a dark, musty hallway with blue walls and dusty floors, Nino Mindiashvili, 30, grills meat on a portable stovetop is the office for a local non-governmental organization called Ray of Hope.
The group's latest project is an initiative to deliver meals to elderly villagers who live in poverty or whose deteriorating health makes it difficult for them to take care of themselves, said Mindiashvili, a former military cook.
"We had a meeting in Gori, where we identified one of the needs [in the village] is mobile feeding services for the people who need it most," she said. She sits in front of a green bulletin board littered with the name of international organizations that have funded her work in the past—CARE International, Austrian Development Cooperation, and the Association of Internally Displaced Women, "Consent."
The feeding project, launched in April of this year, serves nearly 40 people who live in three villages with an estimated population of 1,500. They deliver meals twice a week—usually some combination of meat and potatoes—and they hope more people will apply for support.
"Before the war, this was an economically independent village, one of the strongest in the region," Mindiashvili said, speaking through an interpreter. "Our main income was from selling apples…After the war, this stopped. A lot of houses and orchards were bombed, so there weren't apples for some time."
In the years following the war, younger people started leaving the village for city life in Gori and Tbilisi. Although Mindiashvili has had a stable income and has never had to consider leaving, but she understands why many people do.
"For a lot of people, living here was no longer viable," after the five-day war with Russia in 2008, when many people's houses were bombed, she said.
Devidze is one of the young villagers who left home to study—she has lived in Tbilisi since starting college. But her work as a sociologist and an activist has motivated her to come back—she now comes home almost every weekend to work on the library and to talk to youth about green politics and other social justice issues.
The kids she works with are not much younger than her, and she hopes to inspire them to seek the same sort of opportunities she has sought for herself.
"For the future term, I see that with these kids I really want to see some sort of social factory that will create more impact for the villages around here," she said.