LATVIA: Battling Russian Propaganda, Moving Slowly to the West
By Yu-Ning Aileen Chuang
Just before Russian President Vladimir Putin's annual call-in television program was about to air live from Moscow in April 2016, an 82-year-old ethnic-Russian woman who lives in the Latvian capital asked her granddaughter: Was there any way to go around an official ban on Russian TV and watch Putin on the Internet?
Her granddaughter, a freelance journalist, was in fact able to bypass the blackout on some Russian broadcasters by calling up the website of RTR Planeta, which was carrying Putin's speech online. The Russian channel has been banned from cable TV as "tendentious" by the Latvian government on and off since the Russian seizure of Crimea in 2014.
But the grandmother, the widow of a Latvian national, enjoys watching Russian news and shows in her bedroom whenever she can. "My grandmother's room is like a Russian enclave," said the young journalist asked that her family not be identified for fear that she could damage her career by speaking openly about these issues. Unlike her grandmother, the journalist is too young to yearn for the old days of the Soviet Union. Born in 1992, a year after the Soviet Union collapsed, she considers Latvia as part of greater Europe.
Blending Slowly with the West
Such is the political and generational divide between affinity for Russia and the attraction toward integrating with Western Europe. This Baltic state of 1.9 million people has been blending slowly with the West – it joined the European Union and NATO in 2004 and adopted euro in 2014, and sought to prove itself a trusted U.S. ally by sending a contingent of Latvian troops to fight alongside American soldiers in NATO-led operations in Afghanistan.
Despite being hit hard by the 2008 financial crisis, Latvia's economy is in good shape with a growth rate projection of 3.1 percent this year, according to the World Bank, while the Russian Federation is projected to grow by only 1.5 percent.
But a flourishing economy and the benefits of EU and NATO membership are not enough to ease Latvians' concerns about Russian influence.
Russia Builds its Military Presence
More visible is the Russian military presence along the 206-mile border with Russia to the East, where Moscow stages occasional military maneuvers. No one thinks that the show of military force amounts to a real threat, but officials in Latvia – along with its Baltic neighbors, Estonia and Lithuania, and Poland to the south – do take notice.
The four countries, one-time members of the Soviet bloc are all members of the NATO alliance, a fact that rankles Moscow.
Russia's latest large-scale military exercise called Zapad ("West") in Belarus and western Russia, close to Latvia's eastern borders, is scheduled to begin in September. Although Zapad maneuvers take place every four years, "this year might be one of the largest exercises since 1991," two Polish government officials wrote in May for the U.S. bimonthly The National Interest.
Col. Tomasz K. Kowalik, director of the Military Foreign Affairs at the Polish Ministry of National Defense, and Dominik P. Jankowski, head of OSCE and Eastern Security Unit at the Polish Ministry of Foreign Affairs, added that Russia has ordered over 4,000 train cars to transport its troops.
NATO has been building up its military presence in alliance members that seen most at risk of Russian aggression after Russia annexed Crimea in 2014, a decision taken under NATO summit in Warsaw last year. Four multinational battalions, led by the U.S., Canada, the United Kingdom and Germany, were deployed respectively in three Baltic states – Latvia, Estonia and Lithuania – and Poland.
The Latvian military base, Camp Adazi, anticipated to welcome over 1,000 soldiers of the Canada-led battalion on June 19, the Latvian Defense Ministry said in a statement.
Despite the size of the upcoming Zapad maneuvers and heightened NATO presence, government officials say they are not worried about the threat of a military conflict.
"NATO presence is to protect, not to attack," said the Latvian ambassador to the United States, Andris Teikmanis, in an interview in Washington. "And that's clear to Russia as well."
U.S. Defense Secretary Jim Mattis agreed during a visit to Lithuania in May. "I would just say I have too much respect for the Russian Army to think they actually believe that there's any offensive capability," Mattis said.
Battling Against Russian Propaganda
There is no secret that Russia dislikes the presence of NATO troops in central and eastern Europe. In fact, Russia's envoy to NATO, Ambassador Alexander Grushko, brought strong messages from Moscow to Brussels in May, saying that, "NATO is building a new military security situation that we cannot ignore, that we should address using our own military instruments."
Despite the doubts of actual conflict, Russia might well initially have an easy time if it chose to take military action. A Rand Corp. simulation in 2016 projected dire circumstances in the event of a Russian invasion of the Baltics: Russian troops would overrun NATO forces in less than three days, the report said.
Instead of focusing on that possibility, Latvian officials wage a more subtle battle against Russian propaganda and disinformation, which bombards the region on the internet, on television and radio.
For example, when NATO staged a military training in April, "Summer Shield," a Russian news site on the internet, "regnum.ru," published unfounded charges that three U.S. soldiers had kidnapped a 19-year old Polish girl, and dragged her into a dark alley.
The report further said that the Americans severely beat a man who came to young woman's rescue. The Defense Ministry countered the report and issued an official statement saying that "the aim of such propaganda is to undermine public trust in NATO, and troops of allied forces, through use of unverified information affecting hearts and minds of the people." The Ministry said that Canadian-led troops on their way could also become a target of similar false accusations.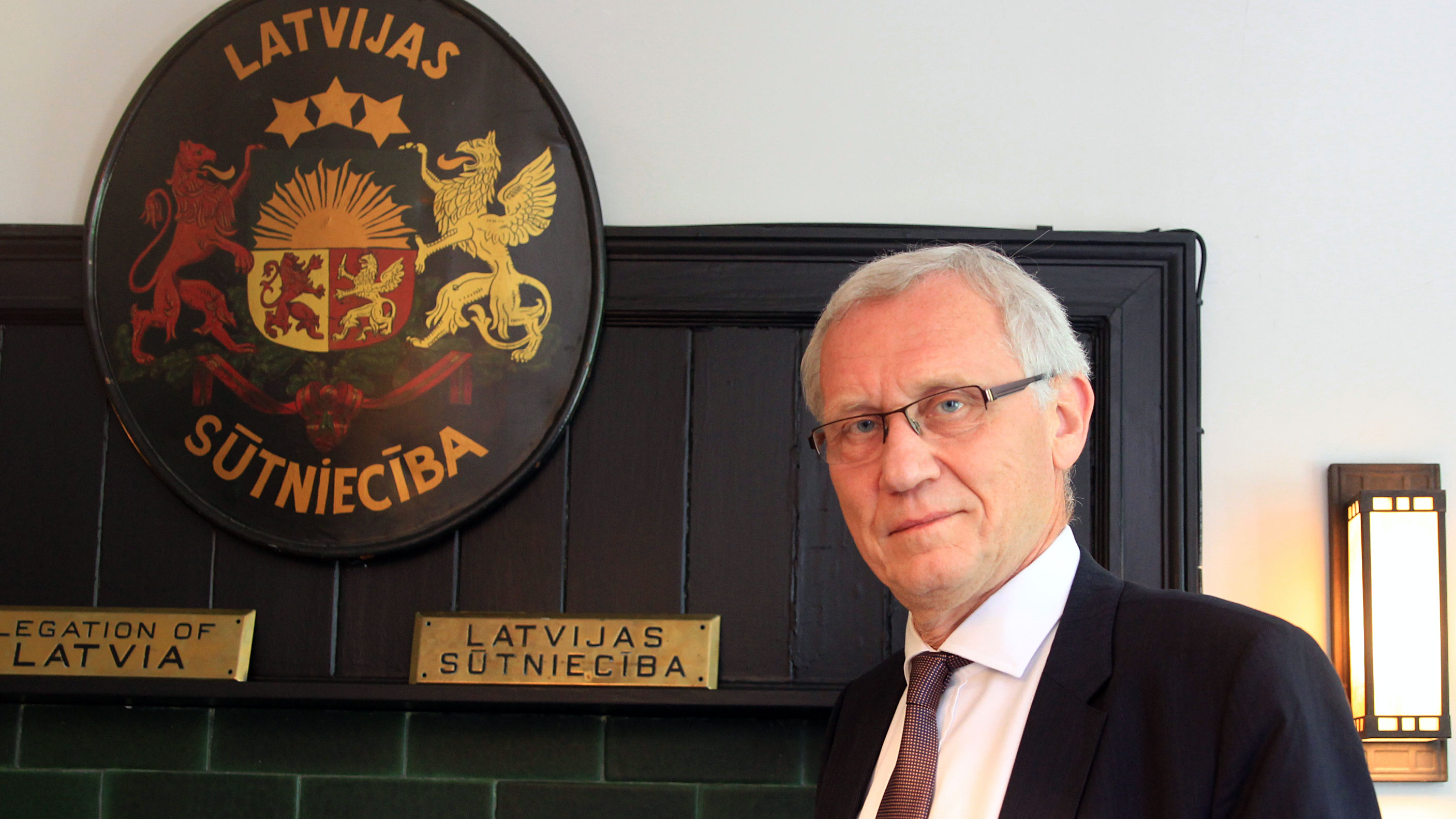 Trump's Campaign Against NATO
Teikmanis, the Latvian ambassador, said that such Russian disinformation is nothing new and the only antidote is to refute lies quickly. "We are getting these messages not only during last year. We are getting [them] 25 years," he said.
Latvian officials were not at all prepared, however, for Donald Trump's campaign against NATO members for not paying enough money to support the alliance. While Trump eased off on charges that NATO was obsolete, he shocked NATO members in Brussels in May by changing a prepared text and deleted a reference to Article 5, the mutual assistance clause of the NATO charter. Under Article 5, "armed attack against one or more of them [members] in Europe or North America shall be considered an attack against them all..."
Trump's deletion left Latvian and other NATO members asking whether they could still depend on the United States for defense.
Latvian officials have done the best they could to maintain good relations with the Trump administration. They declared they would catch up to the NATO guideline for military spending, increasing their defense budget from 1.7 of Latvia's GDP to the NATO target of 2 percent by 2018. "This is our commitment," Teikmanis said.
Latvian officials also are joining with its Baltic neighbors in conducting high level meetings with U.S. officials, including National Security Advisor H.R. McMaster.
Along with the commitment to NATO and efforts to maintain good relations with the Trump Administration, Latvian officials are proud of the Latvia's membership in the European Union and encourage improved EU contacts with two other former members of the Eastern Bloc, Ukraine and Georgia.
What Do Local Russians in the Baltics Think about Putin?
Hear Dr. Valters Nollendorfs, chairman of the board at Occupation Museum Association of Latvia, share his thoughts about the topic.
It permeates everything around you. This may sound paranoid to somebody who doesn't live in this reality. But when you open your Facebook wall, you are guaranteed to see it several times a day, even from the people you would never expect to fall for it — something that is clearly a Russian-fed narrative.

—Rita Ruduša, executive director at the Baltic Centre for Media Excellence
Fighting a War on Information
Goals of political and economic diversification geared looking toward Europe depend on popular support for government decisions in Riga. Journalists and watchdog groups say the country is often fighting a war on information.
"It permeates everything around you," said Rita Ruduša, executive director at the Baltic Centre for Media Excellence, about Russian propaganda. "This may sound paranoid to somebody who doesn't live in this reality," she said.
"But when you open your Facebook wall, you are guaranteed to see it several times a day, even from the people you would never expect to fall for it. Something that is clearly a Russian-fed narrative."
One example is a widespread fake report that circulated in a popular Latvian newspaper, "MK-Latvia" in 2015. The news outlet gave out an information during an interview that Norwegian elementary schools teach children about incest, and coupled with a false quote from Norway's Minister of Children, Equality and Social Inclusion calling incest "a social tradition."
The report ended up accusing Norwegian fathers of involvement with pedophilia. The story was later picked up by other mainstream media and became a social media hit. Almost one in every four Latvians has read the article, which contained falsehoods that originated in Russia, reported by Re:Baltica, a Riga-based NGO dedicated to investigative journalism. "A fight for 'traditional values' has become another battlefield in the confrontation between Russia and the West," the NGO wrote.
'Puppet Used by the West'
The Baltic Centre for Media Excellence, a grassroots organization founded in 2015, has been aiming to counter Russian propaganda by promoting journalism growth and media literacy among communities in the Baltics.
"The Russian propaganda is doing its job very well," said Ruduša, who is also a veteran journalist. She believes, "the only alternative to that is independent, high-quality journalism."
Latvia is also considered more vulnerable to Russian disinformation because of its large ethnic-Russian minority that accounts for 26 percent of the population, and more than 90 percent of native Latvian speakers have some knowledge of Russian language.
People say they are familiar with the traditional narratives of Russian propaganda that Latvia as a "failed state" and "puppet used by the West." But the means and ways of those narratives are getting sophisticated.
Strategic Communications Centre of Excellence [Stratcom], a NATO-affiliated think tank based in Riga, has been analyzing a new Russian propaganda initiative that uses humor and parody. Stratcomis studying late-night shows on Perviy Kanal, a Russian station, that imitate American programs such as Saturday Night Live to mock and discredit Western political leaders.
Fake News
While Russian propaganda is evolving, Latvian journalists are investing in fact-checking, and promote digital and investigative journalism teaching so that they can produce reporting that debunks secret Kremlin-funded propaganda.
Part of the goal is also to educate the public on such tactics so they can better determine the veracity of news sources. New organizations are also starting to combat fake news, among them the Baltic Center for Media Excellence and Re:Baltica. The Latvian government, meanwhile, adopted last year five-year Media Policy Guidelines with a strong focus on the development of media literacy.
Ruduša says that vigilance is required. "It's not just propaganda. Propaganda makes it a particularly toxic mix here," she said. Her organization has also begun to focus on hidden advertising that produces false information in the guise of selling products.
Despite the official focus on fighting fake news, Latvians appear to take questions about Russian influence in stride. Perhaps the form of influence has changed, but Russia has been applying pressure on the country ever since the fall of the Soviet Union 25 years ago.
Back at the home of the freelance journalist in Riga, she and her family joke about her grandmother's Russian enclave and try gently to point out the subtleties of Russian propaganda. They have open conversations about fake news emanating from Russia and the arguments sometime generate sparks.
But most of the arguments are a matter of peaceful coexistence, especially when the journalist's father intervenes with his mother. "I try to explain and to give some arguments, examples," the father said. "Then she starts to think that maybe this is some kind of propaganda."
A PRO-LATVIAN BAR, A PRO-RUSSIAN PARTY AND THE PEOPLE IN BETWEEN
In Daugavpils, Latvia's second-largest city, at least half of the population of 94,000 is ethnic-Russian. Russian-speakers could go through life without ever speaking or learning a word of Latvian, the nation's official language – unless they wanted to buy a drink at the Artillery Cellar Club, a popular live music bar downtown.
"Our service policy is to speak with the locals, exclusively, in Latvian," said Andrejs Faibusevics, 50, who owns the club.
Tourists are exempt and Faibusevics welcomes visitors – and even brings in bands from elsewhere in Europe to perform. He is talking about "locals, who are supposed to know Latvian."
Faibusevics's complaint reflects the long-standing political and ethnic divide in Latvia. Russian and Latvian speakers might vote for different political parties – pro-Latvian or pro-Russian alliances.
The division came to the point where Russian speakers pushed for a referendum in 2012 that would have declared that Russian was the country's second official language.
Voters rejected the idea in a landslide: 75 percent of opposed. In Daugavpils, though, about 75 miles from the Russian border, 85 percent of the voters supported it.
Ethnic Russians are about 26 percent of Latvia's popular of 1.9 million. They have long complained of discrimination while many ethnic Latvians believe the referendum was an attempt to encroach on the country's independence.
Learning Latvian is a prerequisite for obtaining citizenship, but many Russian-speakers have resisted and up to 300,000 remain without citizenship, unable to vote or work for the government.
On one side of the divide are Latvian citizens such as Faibusevics, who says he is haunted by unpleasant memories of Soviet rule before the 1990s.
"Rock 'n' Roll is the most concentrated freedom," he wrote on his Twitter profile. He and some Latvians frown at their fellow residents who still cannot speak the national language but can live and work and survive in this country.
Anna Alexandrova, 22, said that her mother, an ethnic-Russian living in Daugavpils, once told her that Latvian-language is of no use, since it can only be used inside the country.
"I don't need Latvian," her mother told her. "I know Spanish. I know English. It's ok. I know Russian. And there are a lot more people speak in those languages."
Alexandrova said she argued without success, telling her mother "you are living in Latvia. You are not going anywhere. You have to speak the language."
The debate goes on as political leaders continue to represent both sides of the divide.
Harmony, a pro-Russian party, and allied parties won half of the votes and city council seats in Riga, the Latvian capital, in a local election in June.
Igor Pimenov, a member of parliament with Harmony, said that Latvia and Russia are logical partners and should cooperate on trade and energy matters.
""Geopolitically, Russia should not be regarded as the natural enemy of Latvia," Pimenov said.