By Aryn Braun
GRESHAM, OREGON — The final notes of a country song fade as spectators place their right hands over their heart for the national anthem. Nine linemen are staggered on a 30-foot pole in the middle of a grassy clearing, having just hoisted the American and Canadian flags above the crowd. It's late July, and the 23rd annual Pacific Northwest Lineman Rodeo is about to begin.
There is no glamour or prestige in electric work. Linemen in heavy boots and thick denim jeans sweat all day under aluminum wires. Many of them have stark tan lines around their eyes from mandatory safety goggles. It's gruelling work, but once a year teams of linemen get time off from the day-to-day grind to compete in this kind of lineman olympiad.
When they're not climbing poles for sport, lineman are maintaining the 450,000 miles of transmission lines connecting major power producers like the Grand Coulee Dam with homes and businesses. It isn't possible, especially in remote areas like rural Washington and Oregon, to protect every single line, pole or tower. If a terrorist, vandal or vigilante decided to shoot at or blow up a 100-foot tower, they'd have an easy time of it.
Unlike high-voltage transformers, transmission line parts are easily replaceable and there is an army of linemen employed by utilities around the country tasked with preserving and repairing this wiry web.
Joel Scruggs, a spokesperson for Bonneville Power Association, said because the company operates 15,000 miles of high-voltage transmission lines, repairing lines damaged in a physical attack wouldn't be much different than repairing lines downed in a thunderstorm.
Utilities in Oregon, Washington and California sent 26 teams to this year's rodeo to compete in five different events ranging from the hurt-man rescue—saving a bright red dummy hanging from the top of a pole—to the egg climb, a crowd favorite. In this event, linemen must race to the top of the pole as quick as they can without cracking the raw egg nestled between their teeth. At the end of the day, pieces of eggshell still litter the grass.
Last year's winners are a group of cousins from Portland General Electric: Jeromy Adamson and Terry and Craig Randall. Their kids watch from behind the ropes, cheering between stints at the fireman-themed bounce house. Whichever team gets the fastest overall times will represent the Pacific Northwest at the international competition in Bonner Springs, Kansas this fall.
The 23rd annual Pacific Northwest Lineman Rodeo brings teams of lineman from utilities around the region together to compete in a day-long, multi-event contest of strength and skill. (Kat Lonsdorf and Patrick Martin)
"The coolest thing about it is your family and kids get to come out and watch and see what you do, because they really have no idea," said Terry Randall, a lineman since 2009.
The rodeo looks and feels like a carnival, bringing linemen, utility supervisors, sales reps and manufacturers together to celebrate their unique brand of electrical brotherhood and raise money for the Legacy Oregon Burn Center. The slightest mistake on a high-voltage line can leave workers with severe electrical burns.
The event is also a rare opportunity for the utility community to show their appreciation for this risky and dangerous job.
Lineman often work long hours, staying on call into the wee hours of the morning in case the power goes out. Steve Russ, Grand Coulee Dam switchyard supervisor and former lineman, views electrical workers as public servants, intent in their mission to keep the lights on.
"You'll meet a lot of carpenters who have pounded on their thumbs, you'll meet a lot of plumbers who have flooded houses, but you won't meet very many linemen who have screwed up at work," Russ said, reminded of his lineman friends who have been injured on the job.
"When you have someone fall they can certainly die," Russ said. "It's tragic because we're very well-trained and it just meant that someone wasn't paying attention or they took a shortcut."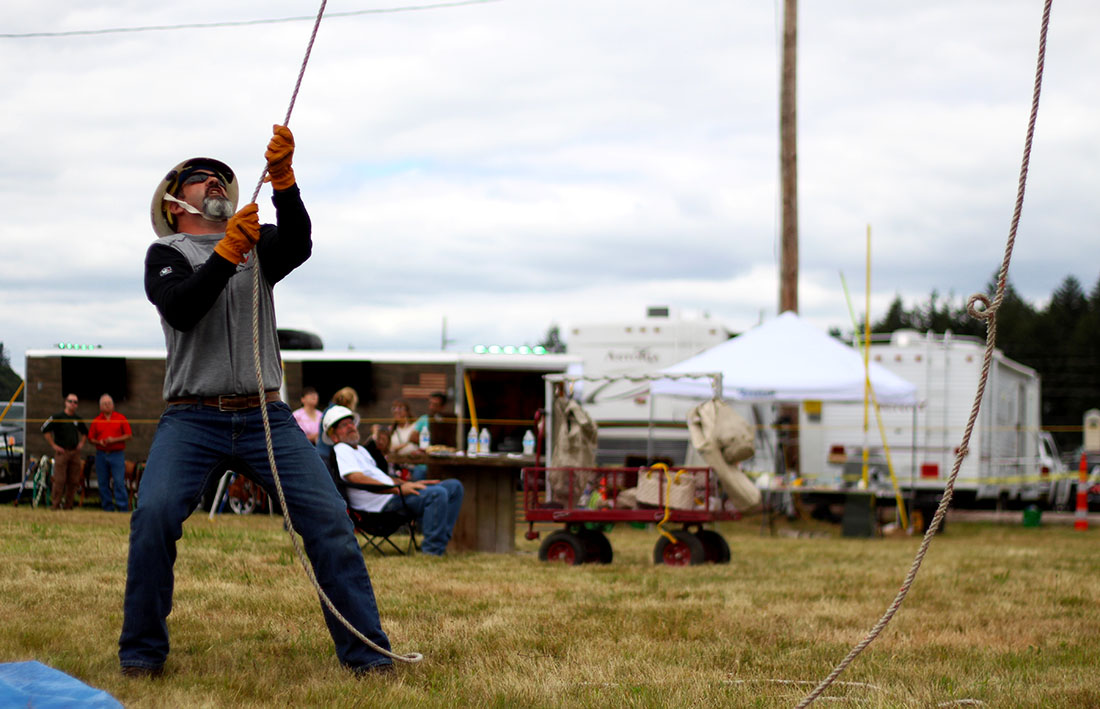 Jeromy Adamson, 42, the oldest member of the team of cousins from Portland General Electric, hoists equipment up the pole and encourages his teammates from the ground as spectators and suppliers watch. (Aryn Braun)
Before linemen can work without supervision, they must complete a strict training regimen consisting of up to seven years as a truck driver, apprentice or groundman. Recently, that crucial training time has been shortened to as little as 18 months.
"I get worried about the new guys," Randall said. "By the time I was ready to go in the air I watched it for like, six years." For many competing and retired lineman, the job is in their blood. Some refer to themselves as "second-generation," paying homage to parents and relatives who spent decades climbing poles.
Lineman are critical to the power machine, without whom transmission towers would be much harder to defend and replace.
"It's amazing how chaotic things get without power," said Holly Stevenson, a rodeo spectator volunteering her time to operate bucket truck rides for kids. "These guys are critical. We take it for granted."