PARIS – On a video monitor in the offices of Reporters Sans Frontieres – Reporters Without Borders in English – a photo appears of Russian President Vladimir Putin hugging a puppy. It dissolves to be replaced by an image of Syrian President Bashar al-Assad celebrating a family birthday, then a shot of former Zimbabwe President Robert Mugabe's face framed by balloons and flowers.
As Mugabe's face fades from the screen, these words appear: "Without independent
journalists, this would be the news."
RSF, with headquarters in Paris and offices in Washington and San Francisco, advocates for press freedom and journalists' safety around the world. Officials told a group of Medill School of Journalism graduate students that RSF releases an annual report on the safety conditions for reporters worldwide, trains reporters going into dangerous areas and offers legal assistance when journalists flee their countries to seek asylum elsewhere.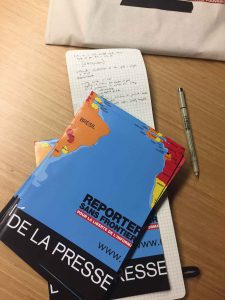 Turkey alone, according to RSF, has shut down 150 media outlets without a court order. Johann Pihr, head of RSF's Eastern Europe Desk, called Turkey "the biggest jail for journalists in the world."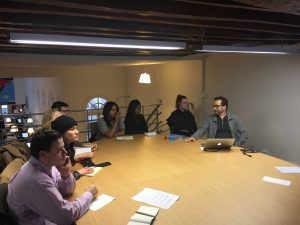 Toward the end of the meeting, Cleo Lemoisson said to the Medillians, "So I hope you all still want to be journalists after all this."