Florida representatives question acting DHS secretary on immigration enforcement
WASHINGTON — Less than three weeks into his new job, acting Homeland Security Secretary Kevin McAleenan responded to tough questions about the department's immigration enforcement Tuesday by saying "the system is full and we are beyond our capacity."
In a hearing that was intended as a Department of Homeland Security budget proposal review, Rep. Debbie Wasserman Schultz, D-Fla., said the conditions of Immigration and Customs Enforcement centers are "inhumane."
Referencing what she called the horrendous conditions at an ICE processing center in Miramar, Florida, Wasserman Schultz asked McAleenan, "When is it going to be fixed?"  He said he would investigate and respond.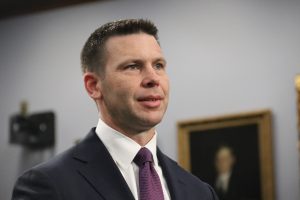 Coming against a backdrop of the Trump administration's April 2018 "zero tolerance" policy that resulted in children being separated from their parents after crossing the southern border – a policy the President Donald Trump later rescinded, McAleenan emphasized that the Immigration and Customers Enforcement works to ensure due process rights for immigrants in the system and does not want to detain children.
Nearly 40,000 children were processed by Customs and Border Protection in April alone, according to McAleenan, who served as Customs and Border Protection commissioner before his appointment to acting DHS secretary after Kirstjen Nielsen resigned on April 7.
"We are in the midst of an ongoing security and humanitarian crisis at our Southwest border," McAleenan told the House Appropriations' Subcommittee on Homeland Security.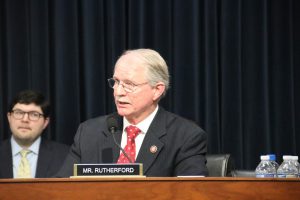 Rep. John Rutherford, R-Fla., said a change to the Flores Agreement, which stipulates that the federal government cannot detain children under the age of 18 for more than 20 days, is a cause of the crisis.
Rutherford said a California judge's expansion of the Flores Agreement in 2015 to include children who cross the border with any adults, not just their parents, in the 20-day detention limit has led to an influx of families coming to the U.S.
McAleenan agreed that the change to the Flores Agreement is a "central challenge," saying that the 20-day time frame is not adequate to process asylum claims and contact Central American governments for paperwork on the migrant families.
McAleenan's testimony to Congress comes just one day after Trump sent McAleenan a memo demanding regulations that would ensure all asylum claims are settled in less than 180 days.
The memo also asked for regulations to be proposed within 90 days that would impose a fee for asylum seekers and limit asylum seekers access to work permits while their claims are adjudicated.
Referencing McAleenan's March 12 testimony to the committee when he called for fostering economic opportunity in Central American countries to address the push factors of migration, Rep. David Price, D-N.C., said, "I hope you'll use this opportunity [as acting secretary] to push forward what your view in the past has been on how to approach this challenge."
---
Published in conjunction with
The Phoenix is part of The Newsroom network