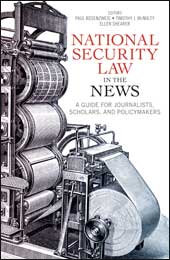 Two Medill National Security Journalism Initiative faculty members and a former NSJI fellow have co-edited a legal guide for national security reporters.  National Security Law in the News: A Guide for Journalists, Scholars, and Policymakers.
"The level of public engagement in issues of national security concern has returned to levels not seen in America since the 1960s and 1970s. The discussion is at once invigorating, engaging, frustrating, and challenging. Journalists, as the
voice of a free people, are at once responsible for reporting on that discourse and, to some degree, creating it," the co-editors say in the book's introduction.
"This book is intended to help journalists reporting on those discussions
understand the legal underpinnings so they can provide context and avoid factual missteps."
The book is a joint project of the American Bar Association's Standing Committee on Law and National Security and Northwestern's Medill School, of which the the NSJI is a part. Co-authors were NSJI co-directors Prof. Ellen Shearer and  Lecturer Timothy McNulty along with Paul Rosenzweig, a lawyer and former Department of Homeland Security deputy who was NSJI's 2011 Carnegie National Security Fellow.
A variety of "legal experts with a wide breadth of experience to provide us with clear and precise summaries of significant areas of law that bear on national security and homeland security policy" were recruited to contribute to the book.
"Many are current or former national security officials who represent various administrations. Others are widely respected academics," the introduction says.
The book is $59 and is available from the American Bar Association's web store.
Press Release
[field name="scribd"]