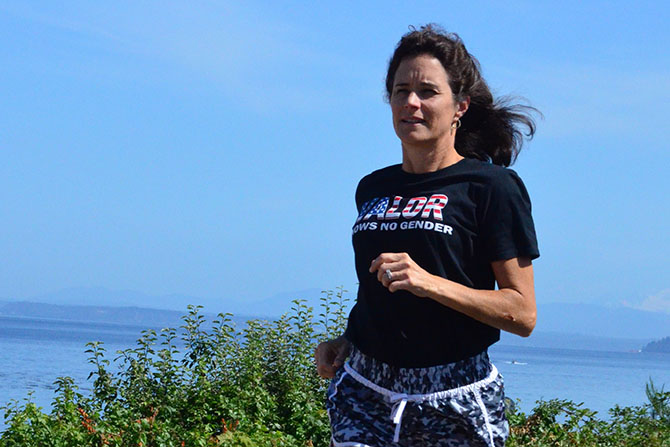 When Marine Maj. Bridget Guerrero (ret.) set out to run a mile for each of the 160 female troops killed in Iraq and Afghanistan, she never thought that one of their moms would show up to support her along the way.
After training for months, Guerrero set out to run 160 miles around Washington's Puget Sound from Thursday through Sunday. When she noticed a stranger among the crowd that came out to support her along the four-day trek, Guerrero introduced herself — and quickly realized the woman was the most important person there.
Re McClung, the mother of Maj. Megan McClung, an accomplished triathlete and the first female Marine killed during the Iraq War, had come to wish Guerrero well. She gave Guerrero her daughter's service coin, which Guerrero kept duct-taped to her arm for the remainder of the race.
"To know she is running for my daughter … and to know that she is running with Meg's coin and to know that funds she raises will pay forward to the daughter of another Marine — it's overwhelming," Re McClung wrote on Facebook.
In an interview Monday after she completed the run, Guerrero, who retired from active duty in 2000, said meeting McClung and running with her daughter's coin made the purpose of her mission all the more salient.
"She said that Megan would be sitting on my shoulder the whole run," Guerrero said. "I think we joked around and I said I hoped she wasn't too heavy."
Guerrero's Valor Run honored McClung and the other 159 female service members who have been killed in Iraq and Afghanistan. She hoped to raise $5,000 for various charities, including the U.S. Marine Corps Scholarship Foundation, which dispenses money in McClung's honor.
Guerrero said she ran to highlight the sacrifices of servicewomen.
"The media very rarely recognizes female losses, so when the average American thought of those losing their lives in Iraq or Afghanistan, they'd automatically think they were men," she said.
She also hoped her run would highlight the inroads female Marines are making as new opportunities open to women in the Corps.
"A lot more occupational specialties are available to women, and with that comes a risk of losing your life — and there are 160 who have," she said. "We want to honor the sacrifices that our sisters have made, and all of us are willing to make, just as much as the men are."
Guerrero's race was the second Valor Run since Navy Reserve Capt. Nancy Lacore founded the organization in 2014. Lacore said she hadn't envisioned her race as something that would inspire followers, but was thrilled that Guerrero was taking it bicoastal.
"It validates for me that this is the right thing to do," she said. "I never thought someone else would be crazy enough to do it."
Guerrero, 47, enjoyed robust support along the 160-mile route, which began Thursday in Oak Harbor, near McClung's hometown, and ended Sunday in Tacoma. At various points along the way she was joined by retired and active-duty service members, family members of deceased troops and in one case a very old friend.
Matthew Denney, a retired Marine who ran alongside Guerrero at amphibious warfare training in the mid-1990s, flew from his home in Bend, Oregon, early Saturday morning and met Guerrero along the third leg of her race. They hadn't seen one another since 2001, but Denney ran 30 miles by Guerrero's side.
"I originally tried to come up with a good reason why I couldn't go run with her," Denney said. "But this is something that warrants attention and support."
Guerrero, a lifelong runner who served as a communications and intelligence officer with 4th Reconnaissance Battalion, was a member of the Corps' marathon, super-marathon and pentathlon teams.
She lives in Edmonds, Washington, with her husband, Dan, son, Sam, and twin daughters, Claire and Ella.
---
Published in conjunction with