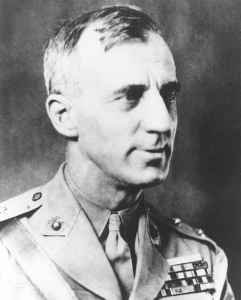 Although considered at the time to be grandiose hearsay, General Smedley Butler's testimony concerning the "Business Plot" to overthrow the Federal government was found credible in 1934 by a special McCormack-Dickstein congressional committee.
In his testimony before the McCormack-Dickstein committee, in which Butler accused many powerful business tycoons and politicians – such as DuPont, J.P. Morgan, even Prescott Bush (father to George H.W. Bush) – of attempting to persuade him to lead 500,000 soldiers in taking the reigns of government from FDR and his progressive proclivities. One year later, the Marine Corps major general wrote a 39-page treatise, "War is a Racket".
Butler was a war hero. In fact, he was the most decorated Marine of his time, receiving the Congressional Medal of Honor twice. So it may have been a shock for some Americans to hear their famed general accuse powerful people of treason, or the country of racketeering. Or to read sentiments such as this in magazines:
"I spent 33 years and four months in active military service and during that period I spent most of my time as a high class muscle man for Big Business, for Wall Street and the bankers. In short, I was a racketeer, a gangster for capitalism. I helped make Mexico…safe for American oil interests in 1914. I helped make Haiti and Cuba a decent place for the National City Bank boys to collect revenues in. I helped in the raping of half a dozen Central American republics for the benefit of Wall Street. I helped purify Nicaragua for the International Banking House of Brown Brothers in 1902-1912. I helped make Honduras right for the American fruit companies in 1903. In China in 1927 I helped see to it that Standard Oil went on its way unmolested. Looking back on it, I might have given Al Capone a few hints. The best he could do was to operate in three districts. I operated on three continents." (Common Sense, 1935)
In "War is a Racket", Butler focuses mainly on the actions of the United States, but one of his main arguments is that all wars are rackets, in that all wars are "conducted for the benefit of the very few, at the expense of the very many. Out of war a few people make huge fortunes."
But "the claim that American foreign policy is dictated by economic interests…is a vast over-simplification," said Michael Morgan, professor of history at UNC at Chapel Hill. "If you say that the [U.S.] only goes to war to help American corporations, well then, that's an exclusively materialist explanation of foreign policy. There are many more factors other than material interests that influence foreign policy," he added.
If Morgan is correct, and Butler's argument lacks nuance, it may have been because of the age in which the general lived. "General Butler's military experience – Nicaragua, Honduras, Philippines, Mexico – was among the most politicized and aggressive uses of the military advancing U.S. foreign policy interests in U.S. history," said William Braun, a professor at the U.S. Army War College. With "the exceptions being actual war," he added.
Whatever the case, whether war is sometimes or always a racket, the fact remains that war has at times been a racket. It remains that the U.S. has used it in such a way, and is arguably still. Economic interest is not the only variable in U.S. foreign policy; however, it is one that is, sadly, lucrative even for the Americans who detest it.