The James Foley Medill Medal for Courage in Journalism award is given to the individual or team of journalists, working for a U.S.-based media outlet, who best displayed moral, ethical or physical courage in the pursuit of a story or series of stories. The contest is open to journalists from newspapers, television stations, online news operations, magazines or radio stations. The story subjects may be local, national or international in scope.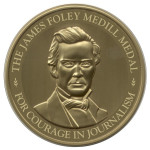 Contest period: Winner receives a $5,000 prize and a medal bearing the likeness of Joseph Medill, who spent more than 40 years during the mid-19th century as editor, publisher and owner of the Chicago Tribune. The award is shared for a team entry.
Entry fee: $40 (Northwestern's Federal Tax ID Number is 36-2167817). Please make check payable to "Northwestern University." The fee will ensure the continuation of the award.
Entries become the property of Medill and will not be returned.
Deadline: Postmarked by Feb. 28, 2015
Visit the award's website.
Entries: Print entries should be submitted in 8.5×11 format for easy handling by the judges. Include four copies of all material. Television entries should submit four DVDs. Radio entries should submit four CDs. Online entries should provide a URL. Please include a brief description of how the entry displays courage, a biography of the nominee, as well as who to contact (and contact information) in case the entry is selected.
Send entries to:
Robyn Schuster
Medill – Northwestern University
1845 Sheridan Road
Evanston, IL 60208-2101
Phone: (847) 467-0726
E-mail: robyn.schuster@northwestern.edu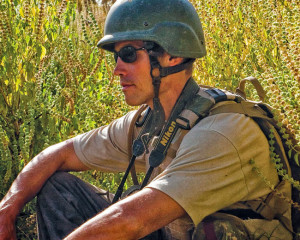 In 2014, the name of the award was changed to honor Medill alumni James Foley (MSJ08). Foley was captured in Syria in 2012 while working as a freelance journalist and, two years later, was murdered by militants. Foley's tireless work to report on difficult stories in a dangerous region "endures for us as a beacon reminding us of the risks implicit in shedding light where inhumanity can take hold," said Medill Dean Brad Hamm.